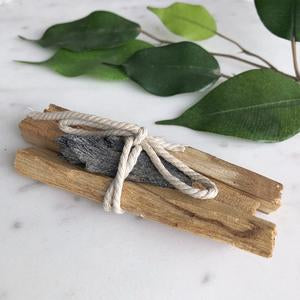 This little bundle of magic includes 3 Palo Santo Sticks and a Black Kyanite Crystal point.
PALO SANTO
Palo Santo (Bursera Graveolens) has a long history of use by the native people of South America as an essential tool in sacred shamanic rituals for its energetic cleansing and medicinal healing properties.
The mystical tree is part of the citrus family and has sweet notes of pine, mint and lemon. The calming and relaxing aroma of Palo Santo is even more present from the smoke of the smouldering wood. Today it is continued to be enjoyed for its cleansing and healing properties, much like sage, to release negative energies and negative thoughts and feelings. The smoke provides an uplifting sent that calms the mind and raises your vibration in preparation for meditation and provides a deeper spiritual connection.
BLACK KYANITE
Activation & Clearing
An extremely protective stone, kyanite can open, activate and balance all the chakras. A stone never needing to be cleansed it does not hold onto negative energies. Keeping your own emotions balanced, kyanite can help you empathise with others whilst not absorbing the heavy feelings of others keeping you grounded in the process.