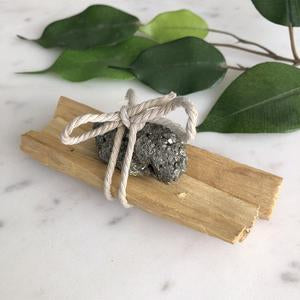 This little bundle of magic includes 3 Palo Santo Sticks and a Pyrite Crystal point.
PALO SANTO
Palo Santo (Bursera Graveolens) has a long history of use by the native people of South America as an essential tool in sacred shamanic rituals for its energetic cleansing and medicinal healing properties.
The mystical tree is part of the citrus family and has sweet notes of pine, mint and lemon. The calming and relaxing aroma of Palo Santo is even more present from the smoke of the smouldering wood. Today it is continued to be enjoyed for its cleansing and healing properties, much like sage, to release negative energies and negative thoughts and feelings. The smoke provides an uplifting sent that calms the mind and raises your vibration in preparation for meditation and provides a deeper spiritual connection.
PYRITE
Motivation & Empowerment
Pyrite is a heavy grounding stone that brings inspiration and motivation. The incredibly powerful and inspiring energy of this stone can light the fire in your belly, empowering you to take charge and push you down the path to success.