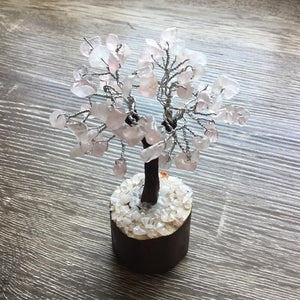 This stunning crystal tree is made from genuine rose quartz crystals, silver colour wire and sits on a hand polished wooden base.
Rose quartz is the stone of unconditional love and infinite peace, promoting kindness and compassion. It is the most important crystal for the heart and the heart chakra as it teaches the true essence of love whilst bringing deep emotional healing to allow an acceptance of love for yourself and others to flourish. Rose quartz opens and purifies the heart chakra allowing loving energy to flow freely without restriction or fear.
This tree features 50 individually hand-wired crystals.
Dimensions: 14cm high (approx)
Crystal Trees are a beautiful way to bring the crystal healing energy into your home. Trees symbolise stability, growth and abundance. Surround yourself with their healing energy by placing a crystal tree in your sacred space, the living space of your home or your work environment. Each crystal has a different energy and will focus on different areas of your wellbeing. Surround yourself with the good vibes of crystals and let their positive energy benefit your overall wellbeing.